Develop teams and organisations with Management Drives and the Matrix as underlying foundation. All classical organisational aspects (mission, vision and strategies) will be dealt with, plus factors as drives, culture and behaviour. In just four half-days you shape an executable mission, vision and strategy.
Connect individual drives, team building and organisational development. Management Drives and the matrix are ideal for guiding the process of shaping mission, vision and strategies. Before (re)defining the mission, vision and strategies, a start session is recommended.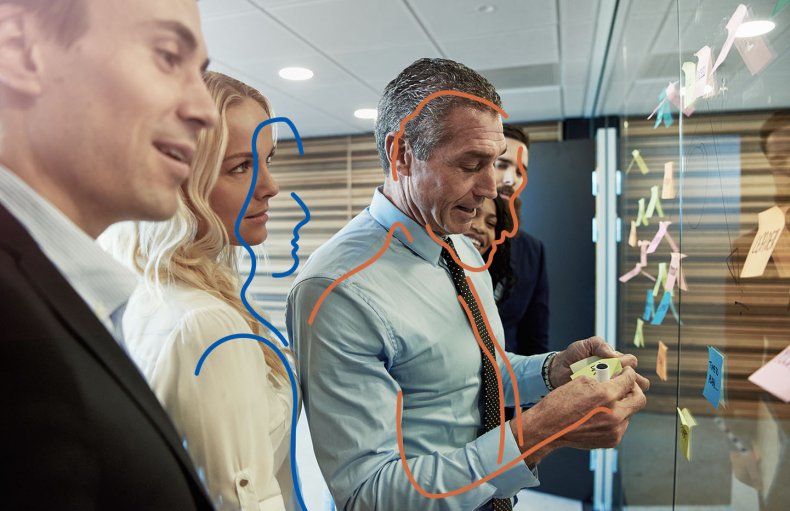 Alignment on the path to take
It is crucial for success to have every team member understanding and supporting a shared vision and goals. Furthermore, they must know how they are going to help to achieve them and are happy with their role in that process.
There are two parts in this alignment, supported by the knowledge of each other's drives and the Matrix. First, there's alignment of mission, vision, objectives, and how you'll achieve them. And there's a second, alignment of people.
When team members are aligned and engaged, teams benefit from improved communication, higher employee engagement, faster decision making, and increased agility to respond to the external environment.
At the end of the session, in a communal group process, the mutual connection is linked to a long-term perspective. This is translated into objectives, agreements and actions. Management Drives is unique in making a connection between individual drives, team building and organisational development. The MD matrix is an ideal model in which three approaches are presented in relation to each other.
From concept to implementation in just 2 days
In just four half-days you'll go from a concept to a document describing all steps necessary to achieve objectives. The various axes in the matrix form the framework.
During the sessions, you'll go from creating a strategy to an implementation plan. The steps in this process lead to a clear vision, supported by structuring and plans. The strategies will offer the clarity and direction required to manage a team or organisation in an inspired and well-considered manner.
The Business side of the MD Matrix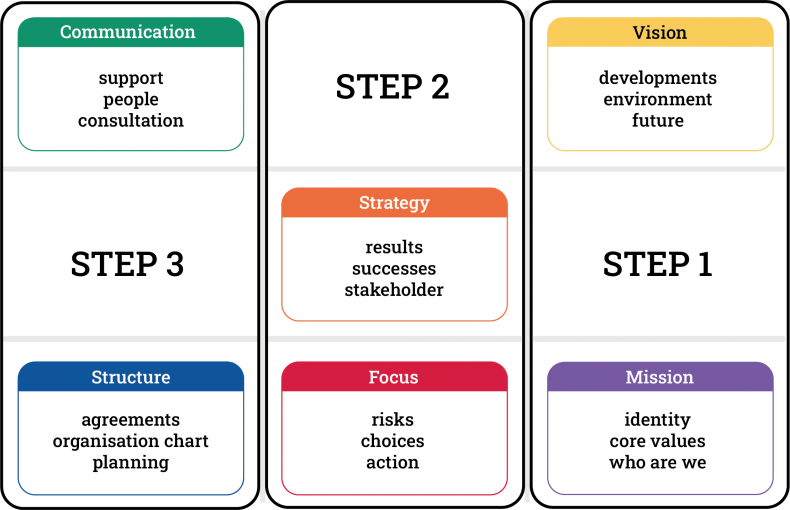 Step 1: Mission and vision
Relates to who we are and where we are going. (Re)defining identity, core values and purpose. Followed by determining a vision, mapping long-term developments, and taking the surroundings and the broader perspective into account.
Step 2: Strategies and focus
Translates mission and vision into concrete strategies and objectives. Defining what the risks are and what you are and are not going to do. Making choices, creating focus.
Step 3: Organise and communicate
Determine how we are going to achieve the formulated goals, what agreements you will make and how you ensure that the people are and remain on board.
At the end of the programme, through intensive cooperation, the team determined the direction and indicated how they will achieve the results. The process that the team has gone through together means that this is also supported and anchored.
The result of this programme is captured in a concrete plan to support the implementation and achieving goals.